Gentlemen, it's time to face the facts: When it comes to weddings, it's all about the bride. This shouldn't be alarming news for you. From the instant you propose right through to the reception you will be on the outskirts of the spotlight.  And then of course, there's the wedding dress.  Good food and tear jerking speeches will generate some buzz, but one thing's for certain, at the end of the day everyone will look back and think about THAT DRESS. As gentlemen we wouldn't want it any other way, but surely theirs something in it for us?  Lucky for you, we have some tips.

Invest in a quality suit. Avoid renting.

Somewhere down the line someone thought it was a good idea to rent a

suit or tuxedo for the big day. If this is you, we don't totally blame you for it either. After all you're only going to be wearing the suit for a few hours. However, we're gentlemen now, this isn't your high school formal. Seldom does a rented suit fit perfectly, nor is it exactly the type of suit you imagined. Not to mention, if you rent you'll be wearing the exact suit as someone else wore on their special day.
Gold Coast Weddings Suits
Leave the corporate suits for work. 
So often we have customers who will design their suit to be one that they can wear after their wedding day. Deep down we can see some who want to be outlandish and different but fear what others may think. Take a risk because you want to look like you're getting married, not doing a PowerPoint presentation?
Suiting up is one of man's finest luxuries. Why should you have to settle for your business suit or off the shelf rental? Be bold, mix things up and jump into something that you're not normally used to. Throw in waistcoat or a different colour lining! Give your suit some personality and character, we guarantee it'll pay off!
Let the suit do the talking.
Look at your budget and see where your money is going. This is your big day and it only comes around once (unless you're Kim Kardashian). You've worked hard leading up to this momentous occasion and deserve to feel amazing whilst wearing your suit. We can tailor a bespoke suit to your measurements for a fraction of the big name brands. An affordable but perfectly cut suit will look like a million bucks. Unfortunately the same can't be said about an expensive ill-fitted one.
Not long ago we walked into a reputable store the other day who were advertising a discount sale on their suits. After factoring in the discount the suit was still going to cost us more than $1000. This suit did not fit well at all. I felt like a complete clown. We asked the shop assistant if they had an alterations team who could take in the jacket and raise the sleeves but we were told that alterations would need to be arranged by us at our own expense. We walked away from the store feeling unsatisfied with the customer service, thank goodness we only wasted our time and not our money.
Don't cut cost with fabric.
A tailor's magic can only do so much. Even the best tailors need quality fabric to construct a spectacular wedding suit. A baggy, shapeless composition will leave you looking like a prepubescent teen trying on his big brothers clothes. 

A quality cloth, on the other hand, will do just the opposite. Consider upgrading your suit to be canvased instead of fused, improving the longevity and shape of your jacket. Cutting cost now will cost you time and money in the future!
In conclusion  all the wedding guests will be staring at your beautiful fiancé/wife. However there will be a time throughout the ceremony where you'll steal a few glances from your family and friends and you are going to make it count! Good luck gentlemen, have fun in the back seat but don't let her walk completely over you haha.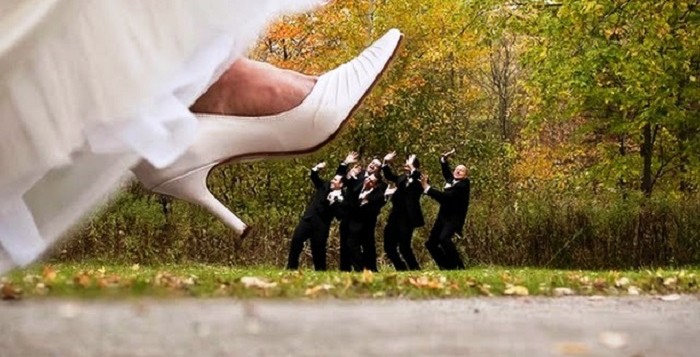 Contact us now about booking your suit fitting on the Gold Coast today hello@madewithclass.com.au